Recent Posts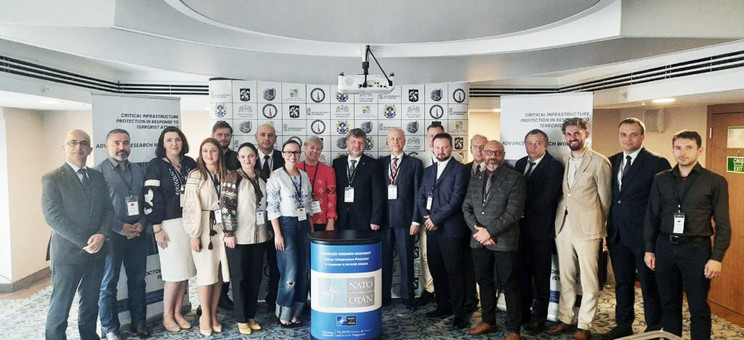 On October 23-25, 2023, the NATO – Science for Peace and Security Programme with Workshop on Critical infrastructures protection in response to terrorist attacks took place in Istanbul with a workshop on "Critical infrastructures protection in response to terrorist attacks". The aim of the workshop was to exchange knowledge and ideas of experienced specialists in the field of critical infrastructure protection.
Participants
The workshop was organized by a consortium of: Rzeszow University of Technology, Kutahya Dumlupinar University Turkey, National Technical University of Ukraine, Igor Sikorski Kyiv Polytechnic Institute, Riga University of Technology. Rzeszów University of Technology was represented by: Rector Prof. Piotr Koszelnik, Vice-Rector for Development and External Relations Prof. Jarosław Sęp, Head of the Department of Avionics and Control Prof. Tomasz Rogalski, Head of the Department of Complex Systems Prof. Dominik Strzałka, Dr. Grzegorz Drupka, Director of the Aviation Training Center Dr. Arkadiusz Rzucidło and Dr. Piotr Grzybowski.
Prof. Jarosław Sęp gave a presentation on "Analysis of threats to critical infrastructure facilities", and Prof. Piotr Koszelnik together with Prof. D. Strzałka presented a presentation on "Potential threats to critical infrastructure in Poland".
In the modern world, as a result of globalization, the migration of people from small or underdeveloped places to larger cities in order to improve living conditions results in a rapid increase in urban populations. This situation affects the transfer of certain problems to cities and threatens their safety. Terrorist attacks are at the top of these threats. The fact that people who have settled in large cities cannot keep up with the pace of life, economic difficulties, differences in political or religious views, and imbalances in income mean that peace conditions in large cities deteriorate over time. As a result, the exploitation of parts of the city's population by illegal groups may prompt some individuals and groups living in these cities to carry out terrorist attacks.
Issues
The problem of potential threats to critical infrastructure in Poland can be considered in many aspects and dimensions. The relatively easy-to-use hybrid warfare formula allows for a variety of actions to be carried out against the enemy's critical infrastructure without formally declaring war. So far, the aim of these attacks has been to demonstrate force, but there are many indications that subsequent waves of attacks may be aimed at a real weakening of the country's defence capabilities. This is clearly visible on the example of the Russian-Ukrainian conflict. Some of the recently published reports indicate a surge in interest in cybersecurity in critical infrastructure and IT/OT environments. Examples of cyberattacks in recent years have influenced the perception of ICT and cybersecurity as the basis for high-performance tasks and services, availability requirements and business continuity at the level of the state, organizations of strategic importance and private entities. Due to the importance of these issues, many actions have been developed in recent years to increase the cybersecurity of IT/OT and Industrial IoT environments to reduce the level of threats to critical infrastructure.
Poland, as a country that is serious about the construction of a shield protecting against threats to critical infrastructure, as a member of the EU, adopts an approach enabling the exchange of data on threats between national sectoral centres, based on local regulations or with EU entities on the basis of ENISA regulations. In the context of ENISA's programming documents, this approach is in line with, for example, ENISA's Strategic Objective 4. State-of-the-art cybersecurity competences and capabilities across the Union in response to the recommendation to develop ICT security solutions in the EU are: systematic assessment of incident risk (functionalities provided by the situational awareness subsystem), provision of technical and organisational measures appropriate and proportionate to the risk assessed with the latest state of the art and incident management capabilities, support for safe work critical systems.