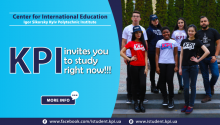 The Center for International Education takes care of the organization of education, accommodation, medical care, public and sports life of foreign citizens at the National Technical University of Ukraine "Kyiv Polytechnic Institute named after Igor Sikorsky"  . Within the structure of the Center for International Education there is a Preparatory Department for Foreign Citizens, which provides training for foreign citizens to enter the university in the following areas:
engineering and technical;

economic;

medical and biological;

humanitarian.
Training is conducted in Ukrainian, Russian, and English in the formation of a group of 10-12 people.
The cost of contract education for the first-fifth year is formed in April-May each year and is constantly updated  on the CMO website in the "Introduction" section  .
Terms of entry:
Admission deadlines for PVI until November 15 (according to some agreements, admission is possible during the year)

Admission deadlines for faculties and institutes are October 15
Duration of training:
preparatory department – 1 year;

bachelor's degree – 4 years;

master's degree – 2 years after the bachelor's program;

Doctor of Philosophy – 3 years (with a master's degree);

Doctor of Sciences – 3 years (with a PhD).
Start of classes:
in the preparatory department: as the academic groups are recruited;

students at faculties, institutes – from September 1;

graduate students – November 15;